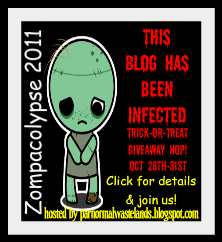 How have you all been enjoying Halloween week so far? Hopefully you have anyway...
Anyway, here's a giveaway to celebrate Halloween! .
It's part of Paranormal Wasteland's Zompacolypse Halloween hop...so there's lots of giveaways going on!
Here at Death Books and Tea, we're offering to one winner one of the books we've reviewed this week. Or, if nothing we've reviewed this week looks like something you want, you can pick another book, as long as it's under £10 and is a horror book/somehow related to Halloween.
The giveaway will be shipped to whereever The Book Depository ship, which is pretty much everywhere. So it's international!
It begins Friday 28th October and will end at midnight Tuesday 1st November.
To enter, all you have to do is fill out the form below.
Also....you've come by one of the 15 bonus stops for a $25 Amazon Giftcard, being given away by Darkfallen and Greta at Paranormal Wastelands. Hop around the blogs, looking for the candy bucket at each of them, for a chance to win. You could have 15 entries if you find all the buckets! Click on the bucket and fill out the form for a chance to win.
..
Good luck! Now go visit all the other giveaways on the hop!